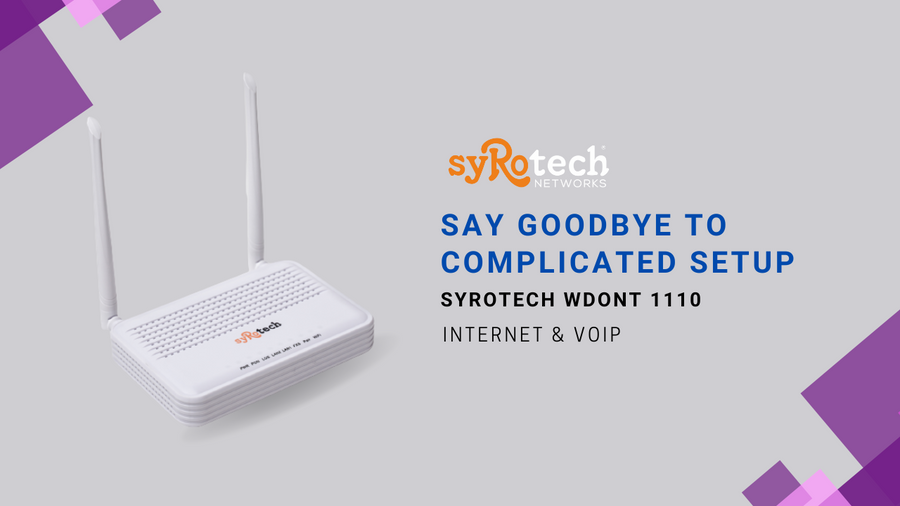 Syrotech SY-GPON-1110-wdont configuration of FTTH (Internet & Voice)
These Syrotech GPON 1110 WDONT router provides 300 Mbps internet with low latency, ideal for HD gaming, streaming, and VoIP services. It features a compact design, enhanced security with WPA/WPA2 firewalls, and easy configuration through a web UI. To configure Syrotech Sy gpon 1110 WDONT for FTTH (Fiber to the Home) Internet and Voice services,  follow the steps below:
1.Connect your device to the LAN ports on the syrotech router by utilizing an Ethernet cable.
2.Open a default web browser and enter default IP address of the Syrotech 1110 WDONT as 192.168.1.1.This will lead to login page along with credentials.
Enter default IP address 192.168.1.1
3.Enter default credentials username as "admin", syrotech default password as "Syro@43210$" and enter verification code to login.
4.After enter verification code , then click login.Followed by new screen to set new password based on the recommended security guidelines.
5.Once you confirm password then click " Apply " to set password and then screen guide to re-login with new password as setted.
Login Page for New password
Enter the New password to login to the syrotech GPON router gateway
Configuration of INTERNET
6. Once you login , you will be on the Syrotech GPON 1110 WDONT router gateway with top menu as "Status, Network, Security, Application, Management, Diagnosis, and Help".
Syrotech gateway with menus 
7.To view status of WAN & EPON  , click the "WAN connection info " drop down menu from the status bar.
8.To configure WAN connection ,move to network menu and delete the default WAN configuration.Now,Create a new WAN by selecting the connection name (either add or select). Then, Select the IP protocol that you wish to use, either " IPV4/IPv6, IPv4, or IPv6 " according to the suggestion of ISP (Internet Service Provider).
 creating a new WAN connection
They are several protocols such as 
DHCP

(Dynamic IP), 

Static

(Static IP), 

PPPoE

protocol
Choose PPPoE protocol to serve multiple clients along with single connection
Then , Enable NAT (map multiple private IP addresses to public IPs before the data transfer) and enter VLAN ID  to connects Multiple devices and communicates with each other.Enter the 802.1p , MTU , Username and password provide by ISP for WAN configuration .
Note : If you don't know the id then contact your ISP provider.
Next, choose service mode to INTERNET and enable three port binding option as port_1,port_2, and WLAN. Click " Apply " and check the WAN Status was "UP"
 Choosing an Service mode 
We have completed the configuration of the internet service and checked the internet speed using speedtest tool in accordance with your plan.
"For WLAN client configuration , basic setting and wireless encryption, click 'WLAN' on Network Main menu bar"
Configuration of VOICE
1.1. To configure Voice calling on this syrotech router, same procedure as to be followed for Internet .Select Network > Internet
Select " add new connection "on connection name and then select IP protocol (IPv4/IPv6, IPv4 or  IPv6).

Select the DHCP option among static and PPPoE protocol 

Enable NAT & VLAN and enter VLAN ID ,MTU and 802.1p as you need for Voice

Finally, Select service mode to "VOICE" and click " Apply "
configure of VOICE service mode
1.2. Then, click "Application > VOIP>VOIP configuration" change the server type form "soft switch SIP"  to "IMS SIP"
1.3. Enter the SIP address for primary and secondary register address.
1.4. And Enter SIP address to Primary proxy section and enable each check box on it 
5.In Secondary SIP proxy ,enable secondary SIP and enter the SIP address
6.At the End , Enable Line 1 check box and include account name ,address as your mobile number as  "+91XXXXXXXXXX" and password should be "ftth@XXXX" (last 4 digit landline number) then click "Apply"
Including of Account name & Address
2.Then move to " Advance VOIP Configuration ", then check the Twice dial Mode as " Inband " & change caller ID Mode as "DTMF" and Click "Save Changes"
Check & change of Twice dial mode & caller Mode 
3.Check the Status menu to check the status of VOIP as " UP" and click the " VOIP information" to check VOIP as registered.If it registered your VOIP service finally made.


Configuration for WiFi Name & Password
Select
 Network >WLAN
to change wifi
user name
(SSID )
and
> WLAN security
for
Password as
(pre shared Key).Finally click Apply changes to save your new password and Username.