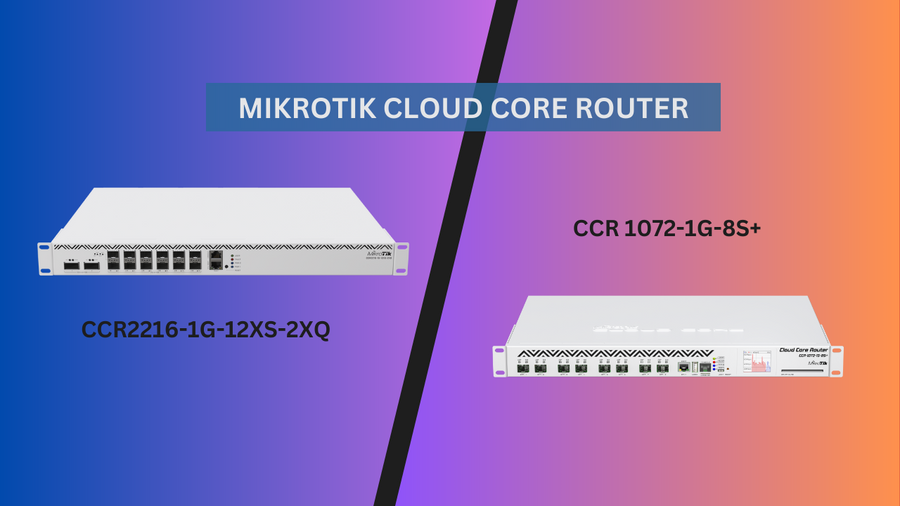 Deep Dive into Mikrotik Cloud Core Router 2216 Series
As a business owner, one should understand the importance of having a reliable and efficient network infrastructure.  In that case, you should consider the router's capabilities such as whether this router supports a Layer 3 switch function or whether it would be enclosed with a firewall or with constant firmware, and what all capabilities it will have. Most business owners will prefer high-end OEMs for their enterprise with popular brands such as Cisco, VSOL, etc. Here it is, Mikrotik also provides a prospective cloud core router along with the advanced functionality that popular brands provide in the marketplace. It is also an ideal solution for their business whether it may be large or small. Let's discuss it deeper in this blog
Mikrotik Cloud core series 
In this CCR, there are two main series switches in Mikrotik such as CCR 1000 and 2000 series. In these series, each one is competitive with one others. Like CCR 1072-1G-8S+, the new flagship version CCR 2216-1G-12XS-2XQ is competitive with their CPU  AL73400 core flagship. Here, CCR 1072 has 72 Core processors and each of the cores is cloaked with 1 Ghz of frequency while on the other hand, CCR 2216 has 16 cores processors that are cloaked with 1.8 Ghz of frequency. 
With its 16-core Tilera CPU, the CCR2216 Knock off with the previous CCR1072 core CPU. In certain scenarios, this router will bring high processing performance when handling complex routing tasks and managing data transfer speed.
Here's a comparison table of what may differ:
| | | |
| --- | --- | --- |
| Specification | CCR 2216-1G-12XS-2XQ | CCR 1072-1G-8S+ |
| CPU | Tilera Tile Gx 16 | Tilera Tile Gx 72 |
| CPU core /threads | 16 | 72 |
| CPU Nominal frequency  | 2 Ghz | 1 Ghz |
| RAM | 16GB | 16GB |
| Storage  | 128 MB NAND | 128 MB onboard NAND |
| Speed  | 100 Gbps | 80 Gbps |
| Port Interface | 12 x 25G SFP,2 x 100G QSFP,1 x 1G Ethernet port | 8 x  SFP+ port  |
| USB  | N/A | USB 2.0 |
| Console  | Yes, RJ45 | Yes, RJ45 |
| Operating system | Router OS | Router OS |
| OS Level | License 6 | Licence 6 |
| Dimension | 443 x 367 x 44 mm | 443 x 315 x 44 mm |
Among this table, the main key core of the router was the core processor. The CCR 2216-1G-12XS-2XQ has a faster clock speed and more SFP+ ports than the CCR 1072-1G-8S+. Which makes this router four times fast, and more reliable network connectivity. However, the CCR 1072-1G-8S+ has more cores and a higher maximum throughput. There is always rivalry between these two routers from the Mikrotik series.
Who's perfect for it?
Mikrotik CCR 2216  is high-performance router designed for network administrators who need to manage large networks with high bandwidth demands. These routers are ideal for organizations that require fast, reliable network connectivity, such as Internet service providers, data centers, and large enterprises. Here are some reasons:
Handle high throughput rates - Essential for data centers and large enterprises to support a large number of users and devices.

Routing Capabilities - Allow to manage complex network topology, including virtual private networks and dynamic routing protocols.

Built-in redundancy -  Dual power supplies and hot-swappable components ensure the router remains operational in case of a component failure.

Security- Integrated firewall, VPN, and IDP (Intrusion Detection and Prevention) that helps to protect the network from external threats.

Scalability - Handles a large number of interfaces and supports multiple routing protocols which have the capability to manage and configure multiple networks.
Management tools :
There are several management tools are available to configure, manage and troubleshoot, each one is perfect for a specific field. Management tools such as Console, Winbox, WebFig, Quickset, and CapsMAN.
Console is able to access the Mikrotik router's configuration and management via the text command, either remotely using a serial port, telnet, SSH, or console screen within Winbox. 
Winbox i.e small utility allows the administrator to configure the router through an easy and simple GUI. It is native to Win32 binary but it runs only on Linux and macOS using Wine.
WebFig is alternative to Winbox which are web based utilization that allows to monitor,configure and troubleshoot the router. Mostly, WebFig and Winbox are widely chosen tools to configure and manage.
Quickset is a simple configuration wizard page, with in few clicks we configure our router function and it is perfect for home users.
Finally, CapsMAN (Controlled Access Point system Manager) allows centralization of wireless network management and data processing if it necessary.CAP provides wireless connectivity and system Manager are to manage and configure Access Points.
INITIAL USER 
Firstly, check the device that is connected to the power source.

With the username admin and no password, connect to the default IP address of 192.168.88.1 using a Web browser or WinBox
Note: -Before connecting, check the user name and wireless password as mentioned.
If IP isn't available, download WinBox and connect through MAC address.

Make sure the router has internet access, and update RouterOS to the latest version.

Update the software from the link

https://mikrotik.com/download

if the device doesn't have an internet connection

Choose your packages from the latest software

When you open WinBox or WebFig, you will get the architecture type for your device model under (System/Resources).

Reboot the device after downloading the packages to the PC and uploading them to the WinBox, WebFig, (Files) menu.

Finally, Set up a strong password to secure the device.
This all the things or steps to follow for the initial starter of this cloud core router. If there is a need for help, then make contact with our technical support team either via chat or make call.
Key Takeaways
Simply put, the Mikrotik CCR series offers powerful, reliable routers for networks with high traffic loads, complex topologies, and advanced routing capabilities. Besides, they are ideal for various network deployments, such as ISPs, data centers, large-scale enterprises, branch networks, and more. For more information and to buy click the link as follows https://www.grabnpay.in/