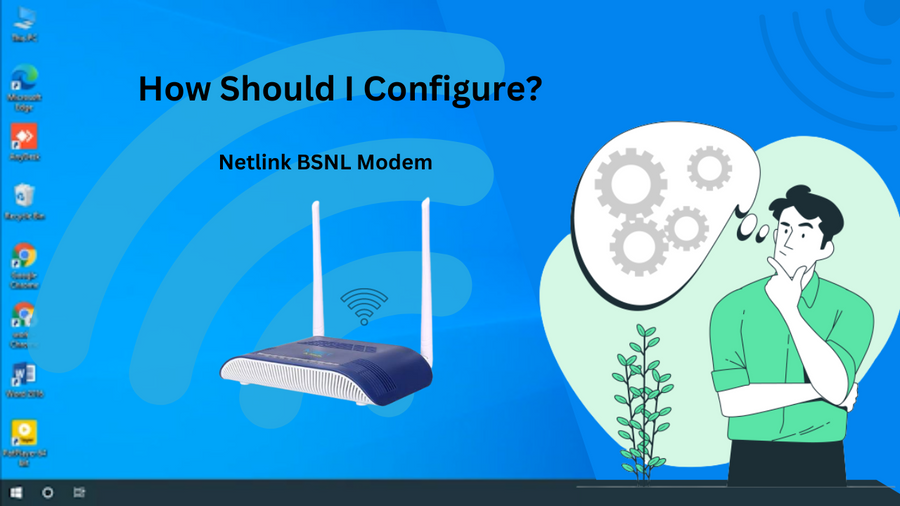 How should I configure the Netlink BSNL ONT FTTH modem?
To configure a bsnl broadband ftth modem using a web interface, here are the steps to follow
To begin
Connect the Netlink modem to your system through "internet and network setting"
The above figure represents the system connectivity with modem as you need to configure WAN connection.
Then, open a default web browser and enter the default IP address(likely 192.168.1.1) on the URL.
This opens the login page. Here you have to enter a username and password along with verification code.
For a new user
Enter the username and password (It can be found in the modem label) for login. Then enter the verification code seen below the bar. 
After login, username and password reset window appears along with password instruction for a strong and secure password setting. This usually appears only for new user login.
Once you reset the credentials, click on "Apply" to save it.
This page will take you to the re-login page. It is a temporary login page to enter updated username and password. 
Netlink gateway
Within the Netlink gateway of HG323RGW (1GE, IFE,1POTS, WIFI) ONT, you can spot "Status, Network, Security, Application, Management, Diagnosis, and Help" at top menu bar.
Configuration process:-
Click on "Network" and delete the default WAN configuration.
Now, create a new WAN connection by selecting the connection name(Either add or select one from drop down box) . Then, change mode as "Route" and choose an IP protocol as either IPV4/IPv6, IPv4, or IPv6. Its chosen based on the suggestion and ISP (Internet Service Provider).
Since you can see various protocols like 
DHCP (Dynamic IP), 

Static (Static IP), 

PPPoE protocol (Allows single server connection to multiple clients) 
Choose the connection that you have taken from ISP.
Then select the check box of NAT (Network Address Translation) if you need to map multiple private IP addresses to public IPs before the transfer of data.
After all these, enter a VLAN ID(connects different devices and communicates with each other).If you don't know the id then contact your ISP provider.
As follows, enter the username and password provided by the ISP and then select service mode as either "INTERNET, VOICE or other options that lists in drop down box".
Finally, enable the port binding (port_1,port_2, and WLAN) and click on "Save/Apply" to configure the connection.
Final outcome
After completing the configuration, go back to the "Status" and select the "WAN Connection info" to view the connection status (usually it will be down without internet  connectivity). If the connection is successful, status will change to "up".
Now open a new tab and check internet speed. 
In case of any error, just ping us to troubleshoot (either virtually or directly(based on availability)).
Where to buy and which type of modem to opt? We guide you in the mission of getting the suitable one. Check our product at www.grabnpay.in 
Note: Grabnpay will help you with all business support for technical solutions and troubleshooting.
Suggestion: To get the all the up-to-date software upgrades, stay connected with us.