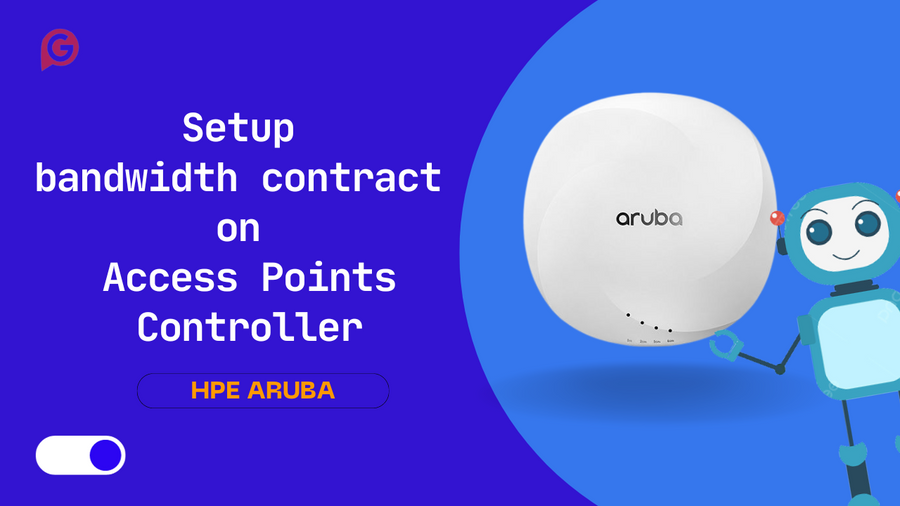 Configuring Bandwidth Contracts on HPE Aruba wifi Access Point Controller
Configuring a bandwidth contract on an HPE Aruba access point controller involves setting up policies that dictate how much bandwidth can be allocated to specific user groups or applications. This ensures fair and efficient network utilization. Below are the typical steps to set up a bandwidth contract on an HPE Aruba access point controller:

Initially, log in to the HPE Aruba Network Dashboard. Enter the Username and Password to get access to the controller.
Once you log in, we get the Aruba controller dashboard. The following tab shows the dashboard of the connected HPE Aruba access point.
Setting up Bandwidth Contracts
Next, to set the bandwidth contract, click Configuration and then select Security > Access Control. This dashboard will display the user roles.
As you can see the " RUfacultystaff "already has a bandwidth contract of 20 Mbps on both upstream and downstream as shown in the below image.
Now to set bandwidth contracts for the guest user,  Select  " RUGuest " and click edit to set bandwidth contracts.
Once you click edit, you are directed to the RUGuest dashboard. Here, click bandwidth contracts to set upstream and downstream to the user.

On the total bandwidth contracts, add new on the upstream port then enter name for bandwidth and set bandwidth as 25 Mbps.

Once the upstream bandwidth has been set, click done. Next move to the downstream setup,
On downstream, select upstream bandwidth as we added before (25 Mbps) and then click apply to set bandwidth. Following that, click Save Configuration on the top menu.
Now, go to the configuration > Access control to view the status of the bandwidth contract.

Now you can see the bandwidth contracts as we set on the HPE Aruba Access Point with a few more steps. If you need any help, just ping us (virtually or directly, depending on availability).

Note: Grabnpay will assist you with all technical solutions and troubleshooting issues. If you want visual understanding, please refer to our YouTube video https://youtu.be/MfMOXO1HNHw