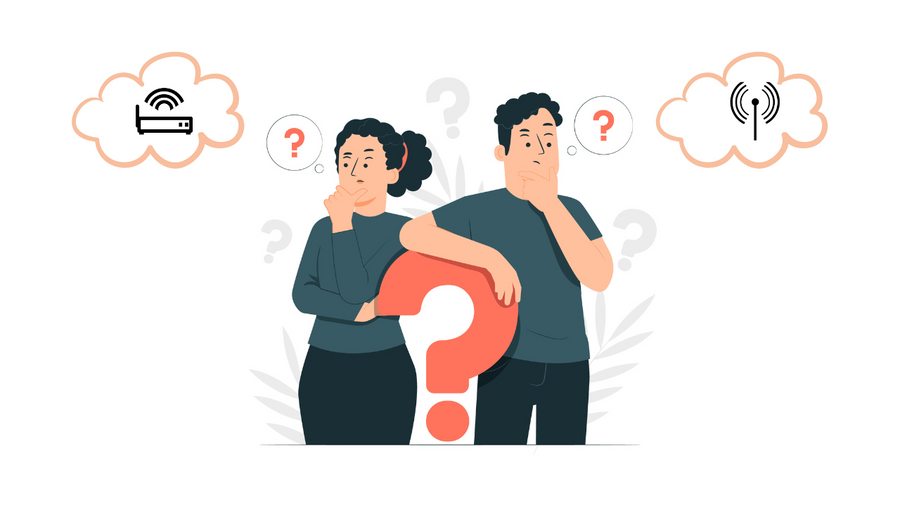 When compared to a modem or router, how does an access point differ?
I just read some of the answers about access points they just shared what is what?. I'm not saying this is wrong, but this content wouldn't be enough to understand a particular topic. Few people will search for other information on other pages to know the whole process of this particular one. In this article, you can gain in that knowledge about access points and it work.
Access Point: When it comes to an access point (APs) few people misunderstand it either modem or router goes. Actually, access point is used to create a wireless local area network (WLAN). It acts as a bridge between communication devices and the wired network. These packets are from the wired network and forwarded to wirelessly devices. The connected device can communicate with both wired and wireless device each other.
When it comes to Access Points I would like to share info on how they are different from modems. Assume a tall building has more than five floors. If we need wifi connection we have to could include a modem on each and every floor or room. It is one of the tedious process to manage each modem on different floors. This is where an access point becomes handy. As we include several access points, WiFi signals are projected to a designated area with a single network. The APs connection includes via ethernet cable, switch or hub.  With this access point, changes done within one device will be reflected to the entire APs that are Placed in the building. Through this, we can share data with safe encryption.
Let's Move to the types: 
Access points are classified based on the purpose, namely indoor and outdoor access point. 
As the name suggests, an indoor access point is designed to be used inside a building, whereas an outdoor access point can be used both indoors and outdoors. Outdoor access points are weatherproof and have a higher power output than indoor access points, which means they can cover a larger area. Indoor access points are less expensive than outdoor access points and are easier to install, but they can only cover a small area.
Coverage: Both indoor and outdoor access points have different coverages. While we go for an office space or home we can use an indoor access point. If we want to cover a large area like a park, stadium, or a large building, we need to use an outdoor access point. When comparing, both provide high performance in the specified range.
Nowadays, fully advanced APs are available on the marketplaces and there are several Models & brands such as CISCO, ARUBA, D-LINK, and much more. Each one is different from one others. From all these brands, I would like to share my knowledge on Aruba.
Aruba is an HP Enterprise company. Aruba 650 is the new series for indoor and 580 series is for outdoor access points. This series support tri-band radios 2.4 GHz, 5 GHz, and 6 GHz with Wifi 6 E ( IEEE 802.11 ax) and delivers a 7.8 Gbps maximum aggregate data rate and 4x4 MU-MIMO.
These  Wi-Fi 6E features include Orthogonal Frequency Division Multiple Access (OFDMA), Airwave, Enhanced Open, and WPA3. 
OFDMA
OFDMA has the capability to handle multiple 802.11 ax clients on each channel simultaneously. Channel utilization is Optimized to handle multiple transactions via smaller sub-carriers or resource units (RUs).This helps to avoid client channel competition for airtime and bandwidth.
Enhance Open & WPA3 
WPA3 provides stronger encryption and authentication for enterprise with latest version and enhance open is to protect seamless encryption for guest users. WPA2 passkey management technology will help to change device type and wifi password that reflects in all other connected Aps, as we discussed above.
Air match
For More user experience and greater stability, aruba air match technology is used. It allows organization to automate network optimization using machine learning.This will also provide dynamic bandwidth for changing device density, enhance roaming and so on.
This brand also include Aruba central AIOps and automation capabilities that helps IT services. It also help with automate repetitive tasks like configuration management, RF optimization, and network troubleshooting, so network services can be deployed faster to support mission objectives and maintain connection quality. It also provides proactive insights to diagnose network-impacting issues.It can also help strengthen cybersecurity to transform into cloud-managed networking.A secure network and identity-based access controls are a part of Aruba's Zero Trust and SASE frameworks.
Similarly, other brands also have its unique features